For owners who truly love their vehicles:
GR Heritage Parts


TOYOTA GAZOO Racing is grateful to old school Toyota sportscars for laying the cornerstone of the modern-day GR line-up.
GR Heritage Parts was set up to reproduce and resell spare parts for old school Toyota sportscars, ensuring that they can race on for many years to come.

With the help of our suppliers, we are hard at work to reissue and reproduce spare parts for Toyota 2000GT and A70 and A80 model Supra.
New information about the sale of reproduced parts will be posted on this website as it becomes available.
Make sure to check back for further updates
Models
Toyota 2000GT (1967-1970)
Launched in 1967 by Toyota Motor, with the cooperation of Yamaha Motor Co., Ltd.
The 2000GT underwent a speed trial prior to market release, attaining numerous international records.
A high-performance sports car with a favorable record of victories in numerous races, the 2000GT is also known for its appearance as the "Bond car"
in the 007 movie "You Only Live Twice."
To commemorate the 50th anniversary marking the end of manufacturing for the 2000GT, we have kicked off the GR Heritage Parts Project in cooperation with owners, mechanics that maintained the up-keep of these cars, and suppliers that handled parts manufacturing, and are proud to hand down this famous Toyota classic for posterity. May these parts help your Toyota 2000GT run with you for many more years to come.
You can view the GR Heritage 2000GT Parts List here.
A70 Supra (1986-1993)
Toyota dropped the Celica XX name used for previous generations of this specialty car in the Japanese market, adopting the Supra name instead.
(Third generation Supra in overseas markets)
The top of the line Supra uses a 3-liter, DOHC turbocharged 7M-GTE engine (producing 230PS), with four types of inline six-cylinder engines.
The chassis employs a full-scale four-wheel double-wishbone suspension,
same as Toyota 2000GT.
Heritage parts reproduction activities began with the rerelease of the A90 Supra in 2019.
Alongside the A80 Supra, the A70 Supra was the first model selected for the GR Heritage Parts Project.
Our aim is to respond to the voices of owners that wish to continue driving their A70 or A80 Supras, that carry many fond memories.
A80 Supra (1993-2002)
Developed for the Japanese market as a new sports car that maximizes not only driving performance but also environmental and safety performance, this was the second generation in Japan. (Fourth generation in overseas markets)
The A80 Supra is loaded with a high-performance and well-known 2JZ-GTE/GE engine (inline six-cylinder 3,000 cc engine with DOHC24 valve).
The RZ grade features a German Getrag six-speed manual transmission, reputed for its high performance.
In addition to the 24 Hours of Le Mans race, the A80 Supra also competed in the SUPER GT GT500 class in Japan.
Even after manufacturing ended in 2002, it continued to be active on the forefront as far as 2005.
Together with the A70 Supra, the A80 Supra became one of the first models of the GR Heritage Parts Project.

We are engaging in the spare parts reproduction program with the sole wish that owners will continue to drive their A80 Supras, a car whose popularity endures worldwide.
AE86 Corolla LEVIN/Sprinter Trueno (1983-1987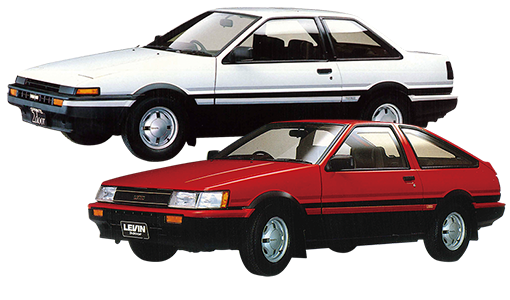 The fifth-generation sports model in the Corolla/Sprinter series was available in two versions: a two-door notchback coupe and a three-door hatchback coupe.
Only vehicles equipped with the famed 1.6-liter DOHC 16-valve (4A-GEU) engine were given the "AE86" designation. Despite production having ceased, the reputation of the AE86 was enhanced after being featured in a popular manga in the 1990s.
It continues to be extremely popular today, and is affectionately referred to in Japan as "hachi-roku," meaning "eight-six."
Land Cruiser 40 (1960-1984
Commonly known in Japan as the "40 Series," the third-generation Land Cruiser was launched in August 1960 as a highly reliable cross-country vehicle.
This ultra-long-selling model was available for 24 years. The series included a number of wheel bases, body types, engines, and transmissions to meet the demands of a wide range of customers.
The Land Cruiser 40 was a best-selling Toyota model in North America from the early 1960s. Due to its exceptional durability and reliability, many are still in use around the world, and this beloved model has been affectionately nicknamed the "yon-maru" (meaning "four-zero") and the "forty."
Product Type
GR Hertage parts consist of two types of parts "Revival Parts" and "Substitute Parts".
Revival Parts… Brand new parts Toyota restarted manufacturing, which was once discontinued.
For customers who purchase "Revival Parts"
Note:
- Longer delivery lead time expected in comparison with other non revival parts.
- Function, quality and warranty is the same, but material and structure could be partially different vs original discontinued parts.
- Revival part number may differ from the original discontinued part number.
Substitute parts… Brand new existing part Toyota has confirmed fitment compatibility.
For customers who purchase "Substitute Parts"
Note:
- Function and quality are the same, but material and structure are partially different vs original discontinued parts.
REPRODUCTION REQUEST
Tell us about the spare parts you want to see reproduced.
Let us know which parts you require to ensure your beloved vehicle can continue to run.
Your feedback will motivate us in our efforts to produce the next batch of reissued parts.
Use the online form to request any parts you require.
Provide us with your vehicle specifications, and let us know which parts you require and why.
We will total up all the requests we receive, and use this data when making a decision about which parts to reissue next.

Please note the following points before making your requests:
We are unable to reply to individual customer requests.
We are unable to guarantee that all requested parts will be reproduced and resold.